0.5/4

3.5/4

3.5/4

1/4

3/4

3/4

1.5/4

3/4

0.5/4

3/4

2.5/4

1.5/4

3/4

1.5/4

4/4

3.5/4

1.5/4

2/4

2/4

2.5/4

2.5/4

2/4

2.5/4

3/4

3/4

Prev 25 | Next 25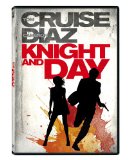 Knight and Day
Tom Cruise Has Some Fun
2.5/4 stars
OK, its summertime and you're looking to duck out of the heat and take in some good entertainment, right? Oh look, there's a new Tom Cruise movie out! Hey, it's also got Cameron Diaz in it too. The previews looked like this could be a good fun movie with some action and maybe a bit of romance. This could even pass for a date night movie, right? Well, I'd have to say right on all points.

'Knight and Day' follows in the path of such films as 'Mr & Mrs Smith' and 'Date Night'. Is it better than any of these? Well, I'd have to say it's a tough call. Director James Mangold ('Cop Land', '3:10 To Yuma') keeps the action moving smartly along, so there's barely time for our two lead characters to develop their romantic connection, but they manage. The locations are literally all over the map, which also serves for some interesting backdrops that become integral to the action. Plus, there is the continuous doubt over the real intentions of Tom Cruise's character, Ray Miller.

While maybe not a 'Jerry Maguire' level performance, Cruise manages to deliver an earnest performance here without seeming intentionally comic. Cameron Diaz is always great to watch and she does a great job here of the put-upon innocent by-stander. Peter Sarsgaard ('Orphan') steps in as Cruise's main foil and also manages to keep the audience guessing as to who the good guys are – at least for a while. Paul Dano ('There Will Be Blood') does a decent turn as the socially inept genius that is at the center of the film's plot.

If you wanted to be hyper critical, there were a number of problems with the story line, and a few things made little to no sense, but because the story is so quickly paced, you barely have time to think about these things. To be sure, the story is mostly predictable, but the laughs that do get generated are genuine. Part of the fault may lay with writer Patrick O'Neal's lack of experience. In this area, I think 'Knight and Day' falls short of 'Mr & Mrs Smith', but fares better than 'Date Night'. All in all, if you're a fan of either lead character, you'll probably want to see this one. While not an Oscar contender, it's still a fun summer-time movie.