1.5/4

3/4

3/4

4/4

4/4

4/4

2.5/4

4/4

3/4

3.5/4

4/4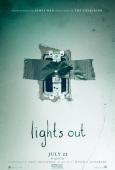 Lights Out
Could have been a lot better
1.5/4 stars
With such a good concept in a pity that more effort wasn't put into the story. I really enjoyed the short film the movie was based on, also directed by David F. Sandberg, and I couldn't wait to see the long theatrical version. I was simply expecting much more than what I got.

The beginning of the movie showed promise of a good movie and then it's all downhill. There is almost no character build up and the story's background is based on a very mediocre plot. The film's original idea needed a far more original story. A girl ghost that haunts a family and the heroic daughter who delves into its past and finds a way to destroy it. Very unoriginal, but with more character depth and dialogue, this could have been overlooked considering the idea of a ghost only appearing when the lights are off.

There are almost no genuine scares with the film relying on jump scares more than anything. The ghost itself was extremely disappointing and looks like someone wearing a latex mask you would see on Halloween. I'm not trying to be harsh, but the ghost appearance either needed to be changed or left out altogether. The movie is way too short, not that this matters, but more could have been added without the movie being too long.

This is one film that definitely needs a sequel, not because it was good, rather in order to carry on the story, developing the characters and plot background and making up for this letdown. There is still plenty potential and opportunity to make this work.

The acting was good nonetheless. Maria Bello playing an unstable mother and her estranged daughter Rebecca, played by Teresa Palmer, carry the movie well. Gabriel Bateman does a great job as Rebecca's younger brother.

As I mentioned, the concept is excellent, but the movie didn't succeed in achieving its full potential but there is still the chance to make it happen. A sequel has been green lit so let's hope it will be much better.