4/4

3/4

2/4

3.5/4

2/4

3/4

2.5/4

3.5/4

2.5/4

3/4

3.5/4

3/4

3/4

2.5/4

4/4

3.5/4

3.5/4

3.5/4

3/4

3.5/4

3/4

3/4

3.5/4

3.5/4

3.5/4

Next 25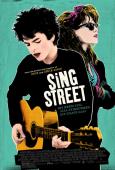 Sing Street
From "Bind" to "Band"
3/4 stars
In Sing Street, set in the 1980s, our main protagonist grade school student Conor (Ferdia Walsh-Peelo) is in a bind. His unstable parents transfer him to a private school in which he is even in more of a obstacle than ever before in his life (bullies, principal hates him, etc.). He sees a beautiful girl out in the distance, giving him incentive to form a new band. And now we have our movie, which turned out to be really, really incredible.

How did I come to that conclusion? Let's find out! For starters, all (and I mean all) of these young actors nailed their roles as characters that were literally brought to life on screen. Amazing character development is one of the many places where this movie shines. You begin to feel for every character's situation and everything each character does in the movie completely complements his or her nature.

The story compelled me so much to the point where I was virtually experiencing the exact situation. The movie did such a good job at perfectly pacing and advancing the plot. A quite simple story encompassed the phenomenal delivery this film displayed.

On top of all these amazing accomplishments the movie already made, the musical numbers were great for any lover of music; songs were catchy, well-written, and cleverly planned out in scenes. Leaving the cinema, I was excited to listen to the great soundtrack in order to curb my addiction to the music played in Sing Street.

A must-see masterpiece film of 2016!