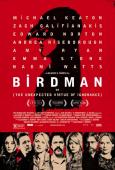 Birdman or (The Unexpected Virtue of Ignorance)
Guilherme
4/4 stars
This movie is the main reason why I watch and why I love movies! This movie talks about everything in life, specially about existence, relationships, parenting, depression, insights, movie critics, personal and professional life... This movie literally is a boost of life.
The characters and the relations shown in the movie are revitalizing. It is filled with great and awesome performances and I should have said this right off the bat that the casting for this movie seemed like it was picked more than cautiously, almost at the edge of perfection.
The gorgeous performances allied with a great script led the characters throughout the whole movie in a fast pace which helped the stile of the movie.
Besides a beautiful and jazzy score, great performances and amazing script, there is one thing which made this movie unique and it is the cinematography, which worked to look like if it was made by one single shot throughtout this whole movie, which allied with a keen editing technique and Inarritu as a director worked out perfectly and deserve the highest grade as possible as an intertaining, technical and soulful movie.