3.5/4

1/4

1.5/4

4/4

2.5/4

2.5/4

2/4

2.5/4

2.5/4

3.5/4

2/4

2.5/4

2/4

1.5/4

1.5/4

2/4

2.5/4

1.5/4

2/4

2/4

2.5/4

2/4

2.5/4

2/4

2.5/4

Next 25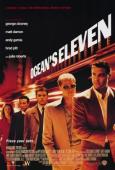 Ocean's Eleven (2001)

2/4 stars
A movie based completely on dialogue, much like the Fast and Furious franchise.

Example: "Well how do we break into the safe?" "Oh, I know this guy..." cuts to scene showing some expert the main characters played by Pitt and Clooney happen to now who just happen to have the skill they need...

The film is composed solely of witty banter between the leads.