4/4

N/A

0.5/4

N/A

2.5/4

0.5/4

1/4

0.5/4

N/A

1/4

0.5/4

2.5/4

N/A

0.5/4

0.5/4

N/A

4/4

4/4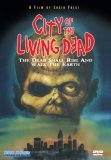 City of the Living Dead ( Paura nella cittÓ dei morti viventi )
TUCO SAYS PERFECT HALLOWEEN MOVIE
4/4 stars
Tuco has two traditions that Tuco always does on Halloween.:

1) Tuco has a bench in front of tuco's house. Tuco sit there in dark worn out clothes with a hockey mask and large fake knife. Tuco sit as still as possible to appear to be a statue. Tuco waits for kids to come by trick or treating. The children do not notice tuco because the children think tuco is fake statue. When the children ring tuco door bell tuco jump up and chases the children away. Tuco always like tricks more than treats. (LOL) >_<

2) After tuco done scaring children and Halloween is getting late tuco go inside and watch City of the Living Dead. Tuco think that this movie has great scares and great gore. This is tuco favorite movie. Tuco also watch City several other times a year. Tuco think everyone should watch this every halloween. Tuco says perfect halloween movie!!