3.5/4

3/4

2.5/4

3.5/4

4/4

3/4

2.5/4

2/4

2/4

3.5/4

3.5/4

3/4

3/4

3.5/4

3/4

2/4

2.5/4

1.5/4

4/4

2.5/4

2.5/4

3/4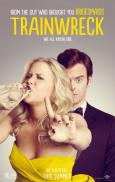 Trainwreck
Trainwreck
3.5/4 stars
Life in the Apatow house has been a little boring lately, hasn't it? With "Funny People" and "This is 40," the filmmaker lost some of the great energy (and humor) that made his first two features a delight. They just weren't that funny; they were so devoid of charm and heart, and above all they were ridiculously boring. That being said, 2015 is thankfully a great year for him.

"Trainwreck" is Judd Apatow's best and most ambitious picture since "Knocked Up" and could very well be the funniest thing he's ever produced. Thanks to Amy Schumer's heartfelt and utterly hilarious screenplay (as well as her strong contribution as the lead), Judd Apatow gets to bring his absolute best to the table. The film is very funny and very well made. It develops a strong realization and connection with the lead character, as well as the supporting cast which includes Bill Hader, Brie Larson and Lebron James, all of whom are terrific. Amy is a trainwreck, as the title suggests, however there is never a moment where we, the audience, aren't rooting for her.

Shot beautifully on celluloid and written to pitch perfection, "Trainwreck" is a sweet, memorable film full of heart and spirit. It's one of 2015's true gems.