3.5/4

4/4

4/4

2.5/4

3.5/4

2/4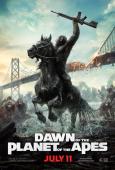 Dawn of the Planet of the Apes
Dawn of the Planet of the Apes
3.5/4 stars
Dawn is easily the best of these movies, new or old. It is also a pretty good quick study of the spiral which can take groups from misunderstanding to open conflict. From open conflict, it is difficult to find trust and lasting peace, as the movie illustrates. Much more than the first film in this new series did, Dawn not only suggests a follow-up, but makes one something to look forward to.
The leads are more compelling than in Rise of the Planet of the Apes. Jason Clarke is an improvement over James Franco, Andy Serkis is astonishing in his restrained, studied portrayal of Caesar, and Gary Oldman is his usual solid contributor. The CGI is virtually seamless, and the effects in general are very good. There are a couple of moments in which the scale of the apes seemed to be off a little, but these are minimal and hardly noticeable.
As a professional reviewer pointed out: Intelligent, angry apes riding horseback and shooting automatic weapons. Well, that's a pretty good bonus.