2.5/4

3/4

3/4

3.5/4

4/4

1.5/4

3/4

3.5/4

1.5/4

3.5/4

2/4

3/4

2.5/4

1.5/4

2.5/4

1/4

2.5/4

3/4

3/4

3/4

3/4

3/4

1.5/4

3.5/4

2/4

Prev 25 | Next 25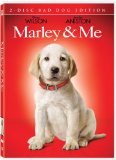 Marley and Me
Marley's a Good Dog
3.5/4 stars
There is sad and then there is Marley sad. Most sad movies don't affect me that much, but this one really was over the top. By the time I left the theater, the small crowd of 8 that went to see it was all in tears.

It was the story of John Grogan, a man who surprises himself. In the movie he wants to be a reporter but finds that he is better writing columns about his dog and life. Instead of accepting this, he makes himself unhappy with the circumstances. Meanwhile, his wife Jennifer, is in a similar boat since she quit her job at the newspaper to be a full-time mother. What neither one of them realize is how good their life really is.

I think this is a great story of how life surprises you and you can make whatever you want out of it. It is a good message that things get tough and you have to stick with it. Overall, it is a story that any dog owner will relate to wholeheartedly.