3/4

2/4

4/4

1/4

2/4

2/4

1/4

1/4

3/4

3/4

4/4

4/4

1/4

1/4

1/4

2/4

1/4

4/4

4/4

1/4

1/4

3/4

1/4

2/4

2/4

Prev 25 | Next 25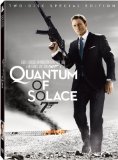 Quantum of Solace
75%
2/4 stars
Action: 3/3 + Comedy: 0.5/2 + Good vs Evil: 1/1 + Love/Sex: 1/1 + Special Effects: 1/1 + Plot: 0.5/1 + Music: 0.5/1 = 5.5/10 or 75%.

As always the second outting in a series is the action packed thrill ride the first wouldn't be. And that's okay. Quantum picks up exactly where Casino left off and every time Craig steps into a room the question isn't whether or not Bond will kick butt, it's whether or not anyone will be alive. This is the clever part of Bond that M addresses directly, "Is anyone alive Bond?"

Thus, Bond is now more like Bourne. Turn off brain, eat popcorn, watch beautiful people try to survive.