3/4

3/4

2/4

2/4

3/4

2/4

3.5/4

1.5/4

2.5/4

3/4

1/4

2/4

3/4

3/4

1/4

1.5/4

1.5/4

3.5/4

2/4

3/4

2/4

1/4

2/4

2/4

2.5/4

Prev 25 | Next 25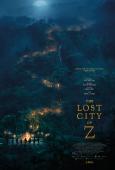 The Lost City of Z
The Lost City of Z - a great Hollywood adventure!
3.5/4 stars
James Gray's historical drama THE LOST CITY OF Z is the type of grand sweeping adventure epic that Hollywood cannot bother themselves to make anymore. Filmed on location in the Colombian rainforest and featuring an ably dramatic turn by Charlie Hunnam, James Gray takes audiences back to the early 20th century's golden age of exploration where an expedition to the Amazon or the Arctic circle was the same as sending astronauts to the moon.

Charlie Hunnam plays British explorer Percy Fawcett who becomes convinced that a lost civilization once existed in the uncharted jungles of South America. Fawcett faced criticism from colleagues and concern from his family over his obsessive quest to discover what he called the Lost City of Z.

James Gray's exquisite direction makes THE LOST CITY OF Z a fascinating character study of a simultaneously heroic and unusual individual in the vein of a David Lean epic. The cinematography makes the jungle setting feel eerie and alien instead of a merely exotic backdrop. Charlie Hunnam brings a quiet confidence to the role of Percy Fawcett that makes him seem dignified and passionate regarding his quest instead of selfish and overzealous. Sienna Miller is his spirited wife Nina who supported Fawcett in his adventures for better or worse. Among the supporting actors, it's Robert Pattinson who gives a surprisingly enjoyable performance as Henry Costin, Fawcett's laidback companion and fellow explorer.

The movie truly has this old Hollywood epic feel that many biographical films lack these days. We begin the story in Edwardian England, trek to the dangerous Amazon rainforest, and even see Fawcett's experiences during World War 1. The transition between these settings and the characters' reactions to the changing scenarios feel effortless instead of forced and obligatory. It's not an action packed thrill-ride like Indiana Jones but it has its moments of excitement which make all the familiar tropes with adventure films seemingly new again such as surviving dangerous rapids, fending off hostile natives, and the movie even makes something as cliched as a piranha attack a horrifying sequence.

A brief review of his biography will alert viewers that Percy Fawcett ended up disappearing in 1925 during his last South American expedition and wasn't seen again. How the film arrives at that moment and deals with it doesn't feel like a cheap trick. Much like the rest of the movie, it doesn't feel cheap. It's a classic adventure film in the best sense of the word that Hollywood doesn't see the need for anymore. And that's a shame.