3/4

3/4

3/4

3/4

3/4

1.5/4

2/4

2/4

1.5/4

2.5/4

3.5/4

1.5/4

1/4

2/4

3/4

1/4

2.5/4

0.5/4

3/4

2/4

1/4

2.5/4

3/4

3/4

2.5/4

Next 25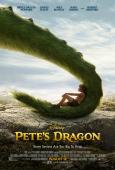 Pete's Dragon (2016)
Watch the original instead. Skip this.
1/4 stars
Disney has decided to remake a lot of their older movies. As a business, it's to make a quick buck. I understand that. Sometimes they make a good movie like Cinderella or a great movie like The Jungle Book. Sometimes they make not merely a bad movie but a boring one as well. The 2016 remake of PETE'S DRAGON is that movie.
Some might say the original 1977 film was bad in of itself. It's true that it hasn't aged well but it has a ktischy campiness that's enjoyable and its sincerity was endearing. I admit I have a soft spot for it.
The remake on the other hand aims for a modernization of the story which makes it little more than a low rent remake of not the original but rather ET: THE EXTRA-TERRESTRIAL. And a cheap looking one at that. Shot in what looks like the same town as the Twilight movies and creating Elliot using so-so CGI. I can't fault the movie for that;Disney wisely spent their money better on The Jungle Book.
Storywise, the mood is low=key and the lighting is bleak. Even outside in the woods, it looks dark and gloomy instead of inviting. It takes a half hour for the plot to get started and another 45 minutes for the plot to get kicking. It's a slog to get through.
The characters are stock but given the understated style, they're also dull and uninteresting. Except for Karl Urban as someone who doesn't seem like a villain despite the movie painting him as such. More misguided but whatever, I'm supposed to hate him.
To its credit, the message about friendship and family remains intact. Otherwise I think this movie would have been panned as it should have been. Not this ridiculous positivity that it had enjoyed upon its release as a pleasant surprise. That's the real conspiracy there, fanboys.