3/4

3/4

3/4

3/4

3/4

1.5/4

2/4

2/4

1.5/4

2.5/4

3.5/4

1.5/4

1/4

2/4

3/4

1/4

2.5/4

0.5/4

3/4

2/4

1/4

2.5/4

3/4

3/4

2.5/4

Next 25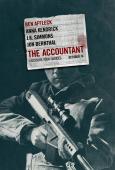 The Accountant
Batman vs Punisher? Nuff said. Sign me up!
2.5/4 stars
The Accountant is an entertaining if overstuffed thriller with a good cast and a commitment to its premise focused on an unassuming forensics accountant who is actually a fixer for the criminal underworld. Given his double life, he is efficient at using guns and his fists. On top of that, Christian Wolff (Affleck) is a high functioning autistic.
That is enough for a complete three act story in of itself. But the movie is more ambitious than that. It piles on a conspiracy subplot of corporate intrigue, an odd couple romance, and a third one where two FBI agents provide essential exposition to the audience. At times, that is overwhelming and it is a lot to take in.
Ben Affleck is great as the stoic type and his moments with Anna Kendrick are light and amusing. There is supporting assistance from J.K Simmons, Jon Bernthal, Jeffrey Tambor, Jean Smart, and Cynthia Robinson.
It would be wrong to call this an action thriller in the same vein as Jack Reacher or Jason Bourne. It's got gunplay, fist fights, and brutal brawling but it's more of a character study than just a simple popcorn flick. That makes the movie drag on a half hour longer than necessary but it's interesting.