3/4

3/4

2.5/4

3.5/4

3/4

1.5/4

2/4

1/4

2/4

1.5/4

3/4

3/4

3/4

2.5/4

2/4

2.5/4

2/4

1.5/4

1/4

2.5/4

3/4

3/4

3.5/4

2/4

1.5/4

Next 25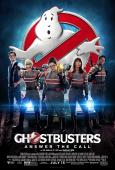 Ghostbusters (2016)
Ghostbusters is..wait for it..a bust! *rimshot*...
1.5/4 stars
Ghostbusters (2016) is a major disappointment. There's no kinder way to say it.
Although the film is not a mean-spirited cash-in with no respect for the original that pokes fun at it for its own survival, the movie is boring on its own terms. It doesn't even bother trying to come up with a more original plot;yes I know it is a reboot but for heaven's sake, try harder next time Hollywood!
Its leads are all likable and endearing in a dorky way but they're given not much to do. Granted, some fare fine like Kristen Wiig and Leslie Jones. Melissa McCarthy is miscast and Kate McKinnon is clearly trying to be interesting but she seems like a cartoon than an actual human being. It's different seeing Chris Hemsworth out of his comfort zone as a complete doofus and I did laugh a few times at him.
Visually, the movie is colorful and bright and silly. The CGI for the ghosts isn't believable but given that the movie is considerably lighter in tone than even the earlier films, perhaps that was intentional-or just cheaper. It does allow for more freedom of movement and creativity with the ghostly villains' designs.
Perhaps my biggest complaint about this movie is its lack of scale or urgency. It is less than two hours but feels longer. There is a lot of time spent on SNL type skits and jokes instead of more naturalistic dialogue and developing any sense of intrigue or excitement.
Needless to say, I disliked this film. And I really was hoping I wouldn't. I know the troll armies from the Internet's dark side issued a fatwa against this film, Paul Feig, and all who gave it a chance. As much as I'd loathe to grant them further ammunition, they are not wrong when they call this a bad film.