3.5/4

1.5/4

3/4

2.5/4

2/4

3/4

3/4

3/4

3/4

3/4

1.5/4

2/4

2/4

1.5/4

2.5/4

3.5/4

1.5/4

1/4

2/4

3/4

1/4

2.5/4

0.5/4

3/4

2/4

Next 25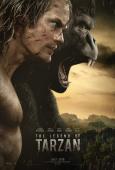 The Legend of Tarzan
LoT is servicable but not quite memorable...
2.5/4 stars
David Yates brings his directing chops to adapting Tarzan for the umpteenth time in this action packed adventure. Costing almost $200M it does look expensive and it works as a pulpy popcorn flick.
The script surprisingly has a social conscious reflecting modern sensitivities about a story featuring a white man brought up in the African jungle. Admirable as it is, the message does prove unwieldy and might seem too on-the-nose for some viewers. The film is at least wary enough not to make the African characters mindless stereotypes and I applaud its confidence in addressing a historical atrocity such as the Belgian Congo's management head on.
What saves Tarzan from drowning in its moralizing and CGI fueled action is the cast and they do very well to breathe life into their thinly written roles. Alexander Skarsgard plays the Lord of the Apes and he is a man of few words but startling as a physical presence. Margot Robbie is his compassionate wife Jane and SLJ plays real life 19th century adventurer George Washington Williams. Rounding out the villains are Djimon Hounsou as a vengeful chieftain and Hollywood's go-to bad guy Christoph Waltz playing another historical figure, Leon Rom. Waltz was serviceable but he could have been more menacing given Rom's bloodthirsty reputation. Seriously, look this guy up. He was crazy.
The action is both exciting but hampered by passable CGI which is surprising given the high budget. It's not on par with another 2016 jungle movie, The Jungle Book. Nevertheless, the scale of the action scenes and the variety of jungle scenarios both heroes and villains face are thrilling. And it's refreshing to see something more reminiscent of a classic swashbuckler instead of a comic book superhero. The climax is an impressive one featuring a stampede, a rescue, crocodiles, and a ticking time bomb.
Although it may not reach the heights of other adventure epics like POTC or Indiana Jones, The Legend of Tarzan is an entertaining summer film thanks to solid casting, old-school action, and the script's heart being in the right place.