2.5/4

2/4

3/4

3/4

3/4

3/4

3/4

1.5/4

2/4

2/4

1.5/4

2.5/4

3.5/4

1.5/4

1/4

2/4

3/4

1/4

2.5/4

0.5/4

3/4

2/4

1/4

2.5/4

3/4

Next 25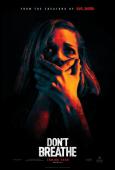 Don't Breathe
And you won't for the next 90 minutes!
3/4 stars
DON'T BREATHE is an effective and suspenseful thriller that utilizes its high concept premise to its full potential. though it might become too disturbing and unsettling for some viewers. Stephen Lang delivers a frightening performance as a blind man whose house is broke into by three teens. Little do they know that it's freaking Stephen Lang and he turns the tables despite being blind thanks to his heightened senses and fearsome military skills.
It continues the trend for the summer of 2016 where smaller B-movies succeed while high profile blockbusters fail. Why? Because this film and others like it such as The Shallows or Lights Out or 10 Cloverfield Lane remember the 3 basics of filmmaking: good writing, acting, and directing.
The film is noteworthy in that there is actually little dialogue and much of the thrills and scares come from the excellent sound quality and actors reacting to their surroundings. Definitely a strong finish to an otherwise anemic summer season.