3/4

3.5/4

1.5/4

3/4

2.5/4

2/4

3/4

3/4

3/4

3/4

3/4

1.5/4

2/4

2/4

1.5/4

2.5/4

3.5/4

1.5/4

1/4

2/4

3/4

1/4

2.5/4

0.5/4

3/4

Next 25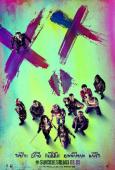 Suicide Squad (2016)
Suicide Squad - way better than RT suggested...
3/4 stars
Suicide Squad is not the giant leap in the right direction I was hoping for with the DCEU's future. However it is a small step and certainly a far more enjoyable experience than BVS. Suicide Squad succeeds as an entertaining popcorn flick with a great cast, an offbeat sense of humor, and an embrace of its comic book origins.
Director David Ayer's flair for a grungy and dirty aesthetic surprisingly enough complements the strange and sometimes absurd comic book universe that WB is trying to establish for their DC film releases. And I'll be darned if it still has a sense of not just fun but humor as well. Remember when DC movies were allowed to have their characters crack a smile or tell a one-liner?
The single best aspect of Suicide Squad is the cast. Will Smith is great as the assassin Deadshot, giving one of his most fun and charming performances in years. Margot Robbie nearly steals the show as the demented paramour of the Joker, Harley Quinn. Viola Davis is perfectly cast as the sinister government bigwig Amanda Waller while Joel Kinnamen neatly fits the role of the stoic and ultimately heroic soldier Rick Flagg. Jai Courtney is legitimately funny and amusing as the irreverent scoundrel Captain Boomerang.
Now while the film is stylish and entertaining, it is not without its flaws. I don't think it deserves a 28% on Rotten Tomatoes but some issues have to be addressed. Jared Leto has little screen time as the Joker which is a shame because he's very creepy and unnerving. The villlain is not that interesting but not as annoying as Jesse Eisenberg was in BVS. It boils down to the same showdown finale you have seen in every superhero movie the last five years.
But I'll credit the movie with one heck of a cliffhanger ending and the promise of better things on the horizon.