3/4

2.5/4

3.5/4

3/4

1.5/4

2/4

1/4

2/4

1.5/4

3/4

3/4

3/4

2.5/4

2/4

2.5/4

2/4

1.5/4

1/4

2.5/4

3/4

3/4

3.5/4

2/4

1.5/4

3/4

Next 25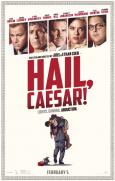 Hail, Caesar! (2016)
Hail the Coen Brothers!
3/4 stars
Hail Caesar is a light and fluffy love letter to the glamour of Hollywood showbiz during the 1950s, a time where studios were pumping money into epics, musicals, and westerns instead of superhero movies. The plot is essentially a series of vignettes highlighting both the hard work and the hijinks that ensued behind the scenes at that time. So laidback in its own warm nostalgia that the actual conflict doesn't start til halfway through the picture.
The cast is game for the fast talking dialogue and tongue in cheek humor. Josh Brolin is the moral center of an impressive ensemble of perfectionists, alcoholics, stuntmen, movie stars, and fifth columnists. Channing Tatum, Scarlett Johansson, George Clooney, and Alden Ehrenreich do great. Johansson is near perfect as a classic platinum bombshell blonde while Tatum flexes his talent for physical humor, charm, and yes the big dance number from the trailers.
This isn't classic Coen brothers however and I'm sure some will be put off by the lighter mood and cheerful characters. I'll admit myself that it's not the masterpiece I was expecting but it's a lot of fun and too charming to put down.