2/4

3/4

3/4

2.5/4

3.5/4

3/4

1.5/4

2/4

1/4

2/4

1.5/4

3/4

3/4

3/4

2.5/4

2/4

2.5/4

2/4

1.5/4

1/4

2.5/4

3/4

3/4

3.5/4

2/4

Next 25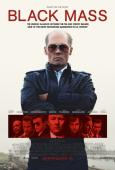 Black Mass
Those eyes what's with the eyes?
3/4 stars
Johnny Depp is back ladies and gentlemen! Black Mass is a solid crime drama but let's be frank, it is all the more watchable and unnervingly entertaining thanks to Johnny Depp's performance as James "Whitey" Bulger a smalltime gangster who became one of the most notorious crime bosses in American history. How did he get there?
He had a friend in the FBI covering for him. Yes you read that correctly. Bulger's ally was the ambitious and sycophantic John Connolly who grew up with both Whitey and his brother Billy Bulger (who not only later became a senator but talks and looks like Benedict Cumberbatch). Connolly's parallel story showing his fall from grace compared to Whitey's rise to power is an interesting contrast. While the supporting cast aren't bad though I can't promise that most of them are especially memorable. Peter Sarsgaard comes closest as a coke addicted killer turned stool pigeon.
Black Mass is a brutal dark and disturbing gangster movie. It's perhaps more than is required and could have used one or more sympathetic characters but Johnny Depp is so terrifying and menacing, he acts as a magnet to keep your eyes watching every criminal deed onscreen.