2/4

3/4

3/4

2.5/4

3.5/4

3/4

1.5/4

2/4

1/4

2/4

1.5/4

3/4

3/4

3/4

2.5/4

2/4

2.5/4

2/4

1.5/4

1/4

2.5/4

3/4

3/4

3.5/4

2/4

Next 25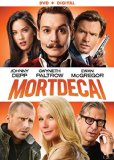 Mortdecai
Bad movie yes. Worst of the year? Not really...
1.5/4 stars
Don't get me wrong though Mortdecai is a sloppy and poorly executed movie both as a popcorn adventure and an ensemble comedy. Somehow they made a caper movie that's about priceless paintings, international criminals, national security, and a nymphomaniac Olivia Munn boring.
Not just boring but it's like that one person at a party who thinks they're the life of the party but they weren't even invited. Johnny Depp's mostly dreadful performance is where most of the film's problems are most obvious but it'd still probably suck without him. Its sense of humor demonstrates little understanding of what makes people laugh. Whatever actual wit it displays seems more jarring than actually funny. The cast is mostly wasted except Paul Bettany who's acting like he's in a better movie and in some ways you wish he was the star of the show. I keep using the adjective "mostly" because there are occasional moments where I (believe it or not) actually chuckled or was amused by the antics that transpired. But these moments are always fleeting as the Roman saying goes.
I don't blame Johnny Depp for running his act into the ground because it makes him a lot of money but there's a point when it's not merely annoying but it'll alienate everyone who thought him a great actor in the first place. Black Mass was released just six months after Mortdecai flopped so at least we still know he CAN be a great actor. I'd say that hopefully he'd go back to basics but in 2016 we're getting another Alice in Wonderland movie and Depp's returning to the POTC franchise in 2017. So I guess we'll have a few more Mortdecais to sit through.