3/4

3.5/4

1.5/4

3/4

2.5/4

2/4

3/4

3/4

3/4

3/4

3/4

1.5/4

2/4

2/4

1.5/4

2.5/4

3.5/4

1.5/4

1/4

2/4

3/4

1/4

2.5/4

0.5/4

3/4

Next 25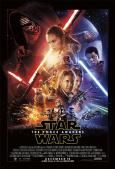 Star Wars: The Force Awakens
The Force Awakens...and is as good as ever!!
3.5/4 stars
Without hyperbole or irony this is the best since the original Star Wars film. There's plenty of echos and familiar plot devices but who cares? Politics and midi-chlorians are nowhere to be found in this installment which is entirely focused on action, adventure, comedy, drama, and of course a small dash of tragedy and even a bit of romance (even though it's hilariously one-sided). What Abrams has accomplished here with the bittersweet memory of the prequel trilogy just ten years old is astonishingly well done.
The new cast that includes John Boyega, Daisy Ridley, Adam Driver, and Oscar Isaac, they do a superb job of making their characters likeable, interesting, and sometimes even better developed than the original cast. The terrific trio of Ford, Fisher, and Hamill are back and do an excellent job. They don't rehash their personas and our original heroes have clearly grown since Return of the Jedi.
The action is staged more elaborately than in the original films and even the prequels weren't so visually dazzling. There's a neat blend of practical effects and some pretty good CGI thrown together to bring the Star Wars galaxy back to life. But director J.J. Abrams remembers that it takes memorable characters and good storytelling to make not just a decent movie but one of 2015's best and most memorable films.