3/4

1.5/4

2/4

1/4

2/4

1.5/4

3/4

3/4

3/4

2.5/4

2/4

2.5/4

2/4

1.5/4

1/4

2.5/4

3/4

3/4

3.5/4

2/4

1.5/4

3/4

3/4

2/4

2/4

Next 25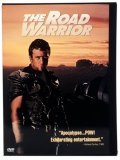 Mad Max 2: The Road Warrior
The second coming of Stagecoach. Just down under!
3/4 stars
Having just watched Mad Max: Fury Road and being subjected to a nonstop adrenaline rush of visual splendor and poetic chaos, I'll admit that at first I was feeling sorely disappointed in the comparatively slower pace of The Road Warrior. But in place of nonstop action, it has an arguably better plot-though not because it's more complicated as modern filmmakers often confuse for 'better'. Instead, it takes time to develop its cast, from a growling wild child to even the villains like the gigantic but surprisingly eloquent Lord Humungous and the vile Wez (same guy that played Bennett from Commando). My favorite character was Bruce Spence as a conniving and wisecracking autogyro pilot.
Even more than Fury Road, The Road Warrior recalls the westerns of old and borrows the very same basic plot of every John Wayne picture with Max taking charge of a wayward band of pioneers and protect them from vicious outlaws.
The chases and action are much less stylized than in Fury Road but are just as gripping because of their brutality and similar bursts of ingenuity to keep things interesting. The climactic chase upon yet another battle scarred semi-trailer is a must-see for action fans.