2/4

2/4

3/4

3/4

2.5/4

3.5/4

3/4

1.5/4

2/4

1/4

2/4

1.5/4

3/4

3/4

3/4

2.5/4

2/4

2.5/4

2/4

1.5/4

1/4

2.5/4

3/4

3/4

3.5/4

Next 25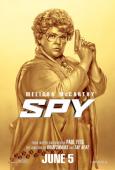 Spy
Action-comedy w/ an equal # of hits and misses...
2.5/4 stars
Melissa McCarthy finally hit her mark with her performance in Spy, her latest collaboration with director Paul Feig. There is a lot that works in Spy both as a comedy and an action movie.
It's surprisingly violent for a comedy with people getting shot, stabbed, maimed, and in one disturbing scene their throat dissolving. What's surprising is how well-shot the action is and how convincing McCarthy is as the hero. Some of the supporting cast works like Alison Janney as her worn out superior, Jude Law as her oblivious love interest, Rose Byrne and Bobby Cannavale as the villains.
What's disappointing is that Jason Statham actually doesn't factor much into the movie. It's only when there's a sight-gag to be needed to show him playing against type as a total klutz. It's certainly funny but I wished he was onscreen more than Miranda Hart who plays McCarthy's sidekick and is annoying as hell. Also the movie actually doesn't begin until 30 minutes into the movie. If the movie was longer that'd be fine but it's less than two hours. We're already halfway through the movie before it even begins.
Once it does though it is a lot of fun and the movie actually looks gorgeous in some shots of Rome, Paris, or even Varna. Who's heard of Varna being in a movie let alone an action-comedy?!?
There is plenty to like in Spy and if you liked McCarthy's recent work with Paul Feig like the Heat then you'll be fine. But it's far more flawed than word of mouth has been honest about.