3/4

3/4

2.5/4

2/4

3/4

3/4

3/4

3/4

3/4

1.5/4

2/4

2/4

1.5/4

2.5/4

3.5/4

1.5/4

1/4

2/4

3/4

1/4

2.5/4

0.5/4

3/4

2/4

1/4

Next 25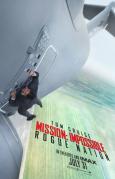 Mission: Impossible - Rogue Nation
How are the M:I keep getting better?
3.5/4 stars
It's astonishing how the Mission: Impossible film series has gotten better and better over the years. Director Christopher McQuarrie who worked with Tom Cruise on the economical yet enjoyable thriller 'Jack Reacher' teams up with the superstar Scientologist once again to deliver one of the best summer blockbusters of 2015.
Those that enjoyed the absurdity of the action of the previous two movies and the witty banter among the characters will find a treasure trove of both aspects of the franchise to enjoy here. To put it in perspective, the famous plane stunt that has been seen in all the marketing is the FIRST scene in the movie and it's not even the craziest action scene that happens onscreen. I'll leave that to those curious and wanna see it for themselves.
The action may be phenomenally filmed but it takes a cast and a story to make it work. Boy does it work! The returning cast is fine but the newcomers are the highlights acting-wise. Rebecca Ferguson is the latest heroine and is possibly the most badass character in the movie save Tom Cruise who might be in his fifties yet can still do the stunts and throw a few one-liners. The villainous foil to the IMF is the nefarious criminal organization known only as the Syndicate and they don't fool around. Their leader is a cunning criminal mastermind played by Sean Harris who might not be a big name star like Philip Seymour Hoffman or Jon Voight but he's arguably the toughest opponent Ethan Hunt and the IMF have faced thus far. I applaud Harris' performance and whomever wrote the screenplay for giving Cruise a good villain for once.
Hell, I applaud the movie in its entirety for being so bloody entertaining and so much fun to watch. This just might be the best in the series but only time can tell.