2.5/4

2.5/4

3/4

0.5/4

1/4

0.5/4

3/4

2/4

2.5/4

2.5/4

3/4

3/4

2.5/4

2.5/4

2/4

1.5/4

3/4

3/4

3/4

1.5/4

2/4

2.5/4

3/4

1/4

2.5/4

Next 25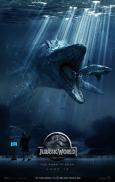 Jurassic World
Jurassic World is worth a visit again and again!
3.5/4 stars
This is the best since the original Jurassic Park. Plain and simple.
And no, I don't mean that passive-aggressively either. It's a genuinely good movie in its own right. Jurassic World picks up where the last two movies SHOULD have started at as far as entertainment value and sheer blockbuster escapist fun goes. The director Colin Trevorrow is gonna be working in Hollywood for a good long while. It's not like Godzilla (2014) and teases the audience;the first shot is of a baby dinosaur hatching for God's sake. It embraces the nostalgic wonder of the original that remains cherished by movie-goers while telling an exciting and hugely enjoyable story along the way. I actually began to cry when the original score started playing. No joking.
The plot is exactly what the tagline has promised. The park is open and it looks fabulous. There are mini dinosaurs for kids to ride. A massive aquatic reptile is fed great white sharks like they were anchovies. The best feature is a gyrosphere-type ride that allows visitors to view dinosaurs up close and personal. But of course, the new management is not totally satisfied and demands newer cooler attractions. So the lab cooks up a Frankenstein's monster of a super-predator and guess what happens? It escapes and raises hell!
Now so the day can be saved, it's up to Chris Pratt, Bryce Dallas Howard, and all the obligatory characters you expect from a Jurassic Park movie: the kids, the nerd, the black guy, the businessman, and the resident A-hole (played with relish by Vincent D'onofrio). Pratt does especially well as the no-nonsense yet charismatic leading man and Howard does fine as a corporate redhead that becomes a badass over the course of the movie. Unlike the previous sequels, there is an effort to make these individual characters likeable and sometimes even interesting even if we've seen them before. And it actually succeeds!
The selling point has been the amped up action and spectacle which never disappoints. There is actually a concentrated effort to build up suspense for certain set-pieces and the visual effects are very good. There's definitely more CGI than animatronics than the original film but for 2015, the dinosaurs look fantastic.
Those curious or cautious may relax themselves as Jurassic World does not disappoint at all as a return to the the franchise and our childhood memories of the now classic original film.