2/4

2.5/4

2.5/4

3/4

0.5/4

1/4

0.5/4

3/4

2/4

2.5/4

2.5/4

3/4

3/4

2.5/4

2.5/4

2/4

1.5/4

3/4

3/4

3/4

1.5/4

2/4

2.5/4

3/4

1/4

Next 25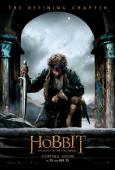 The Hobbit: The Battle of Five Armies
Wannabe LOTR heavy on heroics and hubris.
3/4 stars
For better or for worse, Peter Jackson made an entire TRILOGY of epic fantasy movies based off The Hobbit, a children's book that could easily been told in a quarter of that scale yet here we are with "Battle of the Five Armies". It's the shortest film of the entire franchise and is essentially one drawn out climax or a series of climaxes.
Those expecting a great deal of screentime from Smaug, the best realized character from this trilogy, will be sorely disappointed. But the movie remains entertaining with some well done battle sequences and visual spectacle to satisfy both hardcore fans and casual viewers alike. While a number of cgi shots are painfully obvious, I'm happy to see that the motion-capture effects for certain characters work very well.
The acting takes second place to the action and the concluding of the story in its entirety. But there are some good performances to be had. Martin Freeman and Richard Armitage are good as Bilbo Baggins and Thorin Oakenshield. The script insists that these two unlikely friends become enemies due to Thorin's lust for glory and having a dragon's horde worth of gold at his disposal so Bilbo must snap him out of it. It works for the most part.
Others like Luke Evans and Orlando Bloom are given far more to work with than in 'Desolation of Smaug'. What's interesting is how little Gandalf really factors into this story which is actually refreshing for once. Evangeline Lilly was so good in 'Desolation of Smaug' does try to remain interesting but she is unfortunately restrained by a sappy love story started in the second movie that no one bought in the first place anyway.
Speaking of which, expect little heartwarming moments compared to the other Hobbit films or even Lord of the Rings. Aside from some great sightgags regarding the use of Trolls as siege weapons and some witty lines, it's a surprisingly dour movie. The most lighthearted moment is a surprise cameo by Billy Connolly. The story ends on a decidedly bittersweet note compared to the other installments but I'm betting it was the way that Jackson intended since he bothered himself and the purists by producing the Hobbit trilogy in the first place.