3/4

2.5/4

3.5/4

3/4

1.5/4

2/4

1/4

2/4

1.5/4

3/4

3/4

3/4

2.5/4

2/4

2.5/4

2/4

1.5/4

1/4

2.5/4

3/4

3/4

3.5/4

2/4

1.5/4

3/4

Next 25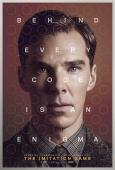 The Imitation Game
The real-life Dr. Strange-and he won WW2!!
3.5/4 stars
An inspiring and effective historical drama highlighting the achievements of the famed British scientist Alan Turing, commonly seen as the father of modern computer science, during WW2. Joined by a top-notch cast that includes Keira Kightley, Mark Strong, Matthew Goode, Charles Dance, and Rory Kinnear, 'The Imitation Game' demonstrates the human condition's capacity for brilliance, innovation, and perseverance under enormously stressful conditions-even if it's that of total war.
Benedict Cumberbatch gives a powerhouse performance as the eccentric and arrogant mathematician Alan Turing who is assigned to help British intelligence break a seemingly impossible Nazi code. Turing strives to beat this challenge and overcome his personal issues (he was gay at a time one could go to jail for it). Keira Knightley plays Joan Clarke, his co-worker and friend that serves as his moral compass of sorts. Mark Strong is really good as the pragmatic and duplicitous head of MI6. The intricate details related to cryptography and code-breaking in the 1940s is made accessible enough for audiences to understand yet esoteric enough to make it seem alien compared to what we're used to today with electronic devices.
This could have easily have been a glossy but shallow bit of Oscar-bait but it appears that the script is fully aware of how significant Turing's efforts were as well as how difficult his personal life was without letting either overwhelm the other. There is a balance of triumph and tragedy in the story and the viewer feels invigorated and enlightened at the same time.