3/4

3/4

2.5/4

3.5/4

3/4

1.5/4

2/4

1/4

2/4

1.5/4

3/4

3/4

3/4

2.5/4

2/4

2.5/4

2/4

1.5/4

1/4

2.5/4

3/4

3/4

3.5/4

2/4

1.5/4

Next 25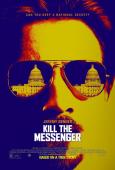 Kill the Messenger
National Security and Crack Cocaine-BFFs?
3.5/4 stars
This movie will make you angry. It made me extremely angry after I completed watching it. The premise alone should make most people extremely angry. Having the CIA complicit in the drug trafficking epidemic that gripped the United States during the 1980s in order to fund Latin American revolutions at the expense of inner-city communities? Say what AGAIN?!?!?!
Director Michael Cuesta and sorely under-appreciated actor Jeremy Renner teamed up to deliver a gripping true-life thriller that also acts as a scathing indictment of the national media even more so than the actual controversy at the heart of the story itself. Renner is the heart of this movie and he performs admirably as Gary Webb, a seasoned reporter who finds the story of a lifetime and it ruins his life-contrary to the rosier image of whistle-blowers in your typical Hollywood potboiler. He's aided by an able supporting cast that includes Michael Sheen, Rosemarie DeWitt, Oliver Platt, Mary Elizabeth Winstead, Ray Liotta, Barry Pepper, Tim Blake Nelson, and in a scene-stealing appearance, Andy Garcia.
It's not an upper of a picture at times. What 'Kill the Messenger' rings home so readily and so effectively is how readily the media is quick to change its position on the slightest of reasons; in this case it's presented as a mixture of spite and skepticism. As the plot's ending credits show, this is often to the detriment of the public good in keeping things in perspective. This movie itself did not receive much attention last fall when it was released to little fanfare. It's a bit ironic considering its timeliness for our present discussion on the U.S. government's tactics here and abroad along with the decline of the national media.