3.5/4

1.5/4

3/4

2.5/4

2/4

3/4

3/4

3/4

3/4

3/4

1.5/4

2/4

2/4

1.5/4

2.5/4

3.5/4

1.5/4

1/4

2/4

3/4

1/4

2.5/4

0.5/4

3/4

2/4

Next 25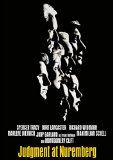 Judgment at Nuremberg
Schindler's List before Schindler's List came out.
3.5/4 stars
Judgment at Nuremberg depicts the 1948 trials which saw the sentencing of surviving Nazi top brass by the Allies. Stanley Kramer was treated to having a cast most directors would have committed murder to have, for good reason. What a cast. We got Spencer Tracy, Burt Lancaster, Marlene Dietrich, Montgomery Clift, Judy Garland, Maximilian Schell, Richard Widmark, William Shatner, and of all people Werner Klemperer (Colonel Klink from Hogan's Heroes). And their performances are all...uniformly... EXCELLENT.
The 160+ minute running time would try the patience of some viewers but those willing to grin and bear it will be treated to a remarkable courtroom drama that examines and sometimes tries to explain the reasoning behind the complicity of German citizens whether civilians or soldiers or intellectuals or laypeople with the atrocities committed by the Third Reich during Hitler's rule and during the carrying out of the Holocaust. They use actual footage shot by Allied liberators from concentration camps. The krux of the drama comes from the question of what punishment if any ought to be dealt to the Germans.
This is all heavy heavy stuff and for a 1961 movie, the movie pulls absolutely NO punches. So does the acting match the gravity of the subject matter at hand? Sweet shit, the acting is incredible. This is among the best ensemble casting I have ever seen. Maximilian Schell is the scene-stealer as a feverishly ambitious German lawyer defending Nazi war criminals;he earned that Oscar. Spencer Tracy serves as the moral center of the film, principled yet practical and never pragmatic. Burt Lancaster plays arguably the most fascinating character even if he ends up overshadowed by others: an esteemed German judge that routinely carried out the Nazis' fiendishly immoral legal justification for targeting Jews and other Holocaust victims. The rest of the cast is just as good even if their characters are given less impressive material to work with.
The sole flaw that the film has is that despite the Herculean strength of its acting and the richness of its screenplay, the direction of the proceedings is uninspired and follows the standard format for other trial films. Despite this, the audience does feel the weight of the characters' moral dilemmas thanks to the powerhouse acting and the timeliness of the premise. At the time of its release, real-life ex-Nazis like Adolf Eichmann were being put on trial for their heinous crimes. More than fifty years later, the world has witnessed similar events such as the Rwandan Genocide, the Khmer Rouge's killing fields, and the current evil that is being committed by ISIS and Islamic terrorists these days. It is for this reason especially that 'Judgement at Nuremberg' is most likely Stanley Kramer's most effective and important epic.