3/4

3/4

3/4

3/4

3/4

1.5/4

2/4

2/4

1.5/4

2.5/4

3.5/4

1.5/4

1/4

2/4

3/4

1/4

2.5/4

0.5/4

3/4

2/4

1/4

2.5/4

3/4

3/4

2.5/4

Next 25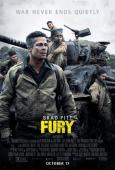 Fury (2014)
Living up to its title 'Fury' with a vengence.
2.5/4 stars
David Ayer's WW2 ensemble piece is as hardened and unrelenting as the tank crew it focuses on. The gritty style and somber tone of his direction sometimes reminded me of Saving Private Ryan though 'Fury' is not on that level despite its hopes and constant efforts to convince viewers otherwise.
That said, the acting is surprisingly good all across the board. We've seen all these characters before in other war movies but the script turns it on its head by suggesting each stock character is merely putting on a facade to deal with the ceaselessly brutal conditions of war.
Logan Lerman serves as the audience's POV while Brad Pitt is solid as the stoic tank commander 'Wardaddy'. Shia LaBeouf and Jon Bernthal work as great foils of each other;LaBeouf plays a devout Christian and Bernthal is a volatile redneck. Michael Pena is forced to play the solely one-dimensional token minority.
One thing that can be commendable about 'Fury' is Ayer's insistence to make everything seem as dank and dirty and gritty realistic as possible. It really drives home the point that the script wants to make but is too clunky to make it stick. Brad Pitt stumbles over the pretentious quip "Ideals are peaceful. History is violent" to a wide-eyed Lerman in a room full of Nazis that committed suicide.
The action is well shot and actually suspenseful compared to other recent war movies. The violence is bloody and gory, much like Saving Private Ryan. A standout moment is a nail-biting duel with a formidable Tiger tank, among the Nazis' best tanks in WW2; sorry for being so pedantic I play World of Tanks. If the film just focused on how fighting is accomplished inside a tank as it had for the first two acts, it'd be fine but once again 'Fury' is aiming for Spielberg levels of greatness by mimicking the climax of Saving Private Ryan where our heroes are outnumbered against impossible odds. It's nowhere near that good and the constant effort to emulate 'Saving Private Ryan' is distracting to say the least.