3/4

3/4

2.5/4

3.5/4

3/4

1.5/4

2/4

1/4

2/4

1.5/4

3/4

3/4

3/4

2.5/4

2/4

2.5/4

2/4

1.5/4

1/4

2.5/4

3/4

3/4

3.5/4

2/4

1.5/4

Next 25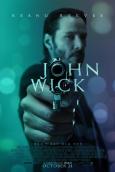 John Wick
16 years is a long time but Keanu Reeves Returns!
3/4 stars
Former contract killer John Wick's motivation for killing 100+ people in this movie is perfectly understandable. Criminals break into his house, steal his car, and kill the dog Wick's deceased wife left him as a gift. Wick (Keanu Reeves) feels the compulsion to set things right and kill anyone in sight that is associated with the hoodlums responsible for his plight and sweet shit does he do some killing.
This is Keanu Reeves' best action movie since the original Matrix and among the best R-rated examples to hit theaters in some time. Two reasons for this are how the movie looks downright beautiful sometimes and more importantly, John Wick is played as a consummate professional despite also being a grieving widower or as a minor character puts it, vulnerable. John Wick does not play games with opponents, killing them without hesitation and if he misses his first target he does not miss the second time. Gunplay, fist-fighting, and martial arts are incorporated into the action;sometimes at the same time and boy, it is exciting to watch.
Keanu Reeves is also allowed to act instead of behaving as the blank slate of human existence that he is often derided for performing as such. His quiet moments while mourning his departed wife and his bonding with that dog are touching. Once Wick has to fight someone, Reeves remains a credible physical presence and a more than convincing action hero. He's joined by a good cast that includes WIllem Dafoe, Michael Nyquist, Adrianne Palicki, Ian McShane, Lance Reddick, and Alfie Allen in a scene-stealing role as the cowardly delinquent dumb enough to cross John Wick in the first place.
I mentioned before how great the movie looks compared to most action thrillers these days that rely on shakey-cam and adhere to the teal-orange color scheme typical of a Michael Bay film. Nothing of that to be seen here. The criminal underworld created in this movie is colorful and as such should appear the same. It's prettier looking than some Oscar-bait these days.