3/4

3/4

3/4

3/4

1.5/4

2/4

2/4

1.5/4

2.5/4

3.5/4

1.5/4

1/4

2/4

3/4

1/4

2.5/4

0.5/4

3/4

2/4

1/4

2.5/4

3/4

3/4

2.5/4

2/4

Next 25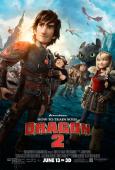 How to Train Your Dragon 2
Dreamworks' best animated film yet
3.5/4 stars
This is Dreamworks' best animated film to date. It's even better than Shrek, Shrek 2, and the Kung Fu Panda movies. It's vastly superior to the original movie as well and that was already potential classic material for future generations. The story, the animation, the character development, and the size of everything that happens onscreen is unlike anything that Dreamworks Animations has done before.
We see the end result of Hiccup (Jay Baruchel) mending the rift between humans and dragons five years later with a society where both species coexist side-by-side, protecting each other and having fun at the same time. It's a peaceful existence until the arrival of a would-be dictator named Drago Bludvist (a menacingDjimon Hounsou) and his mind-controlled dragon army. Hiccup, his now-supportive father Stoick, and their friends work to stop Drago before it's too late.
The synopsis I just laid out sounds a lot more like a Peter Jackson production than a 90+ minute cartoon but that's how much the scope of the story has expanded since the first movie. It's tremendous and all the more entertaining for it. The message is much stronger this time around. It rightly states that although you may not change people's minds for the better, it never hurts to try. It's handled more maturely than most animated films do.
I loved how the film took a second to build upon its characters and smoothly introduce new ones. As insane as Drago Bludvist is, you see how his background influenced his train of thought. Other supporting characters leave a more memorable impact this time around. Craig Ferguson is wisecracking as ever as Gobber. America Ferreira is a more well-rounded heroine as Astrid while the remainder of Hiccups' friends have their well-deserved moment to shine. Newcomers Cate Blanchett and Kit Harrington do a good job as well.
The best handled aspect is the strength of Hiccup's friendship with Toothless. Part One did a solid job but it was too predictable to me. Here, both good and bad things happen to test their bond to each other and it's all the more engaging for it.
This is the best animated film of 2014 and one of the best films of the year.