3/4

1.5/4

2/4

1/4

2/4

1.5/4

3/4

3/4

3/4

2.5/4

2/4

2.5/4

2/4

1.5/4

1/4

2.5/4

3/4

3/4

3.5/4

2/4

1.5/4

3/4

3/4

2/4

2/4

Next 25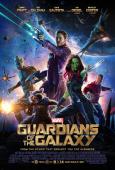 Guardians of the Galaxy
Marvel's big gamble is a winning hand after all.
3.5/4 stars
2014's surprise smash hit "Guardians of the Galaxy" is an infectiously rousing, exciting, and entertaining superhero blockbuster with an appropriately colorful cast, dazzling visuals, and the kind of thrills you'd expect to find in any decent space opera.
Chris Pratt delivers a capably charismatic performance as the intergalactic outlaw Star-Lord who runs afoul of many other such criminals before finding himself aligned with the likes of assassin Gamora, juggernaut Drax, along with the oddball duo Rocket Raccon and Groot.
Director James Gunn is notorious for his off-the-wall humor and outlandish visual style which compliments the retro science fantasy trappings that GOTG's story takes place in but also makes it much easier for audiences to get onboard with. The production design, the makeup, and the costumes are all befitting for a space adventure like this. It really reminded me of similar film franchises like Star Wars with a small dose of Firefly thrown in for good measure.
What really makes GOTG work so well is how effortlessly it introduces us to these honestly bizarre characters and then immerse us in their world so we can enjoy the action, the comedy, and watching all these lovable rogues bounce off each other's larger-than-life personalities as well as partaking in their wild adventures.
Like I said before, Chris Pratt is the definite break-out star of 2014. But who sincerely would have thought that a cgi raccoon played by Bradley Cooper and a humanoid tree voiced by Vin Diesel would become so memorable as well as likeable protagonists? Or a former wrestler who plays an antihero incapable of understanding figurative speech? Rounding out the cast is Zoe Saldana who succeeds in making her potentially one-note character-a remorseful killing machine-far more interesting thanks to her efforts to display Gamora's softer side and her own dry sense of humor.
The supporting cast does a good job as well. Michael Rooker, Lee Pace, Glenn Close, John C. Reilly, Benicio Del Toro, and Josh Karen Gillian all get to play an interesting role in some fashion and are sometimes unrecognizable with their makeup and costumes.
If there is one thing that I could jot down as a flaw is that it does occasionally throw one or two many plot points or characters at you that it becomes too dizzying to fully comprehend if one is not a comic-book reader. But luckily it's not enough to totally spoil GOTG's entertainment value which as far as Marvel movies go is among their highest caliber to date. When I first heard that Marvel was gonna do a movie about the Guardians of the Galaxy, I was downright skeptical but amused by their bravado. But I got to admit, they were on to something which they knew would be risky so they did the right thing by not only hiring James Gunn as director and collecting the cast as they got but treating the source material as it should be: FUN!