2/4

3/4

3/4

2.5/4

3.5/4

3/4

1.5/4

2/4

1/4

2/4

1.5/4

3/4

3/4

3/4

2.5/4

2/4

2.5/4

2/4

1.5/4

1/4

2.5/4

3/4

3/4

3.5/4

2/4

Next 25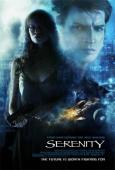 Serenity (2005)
Serenity Sucks. There I said it.
1.5/4 stars
There are a few things that fanboys, geeks, nerds, and similar groups of like-minded social outcasts must understand and accept. One of them is the plain and simple fact that even though Firefly was an awesome tv series, the movie that Joss Whedon made as a continuation was just terrible. I'm gonna get assassinated for saying this probably but Serenity is a terrible movie.
Newcomers would be confused as **** by the writing and the mythology of the series. The central conflict of the film emerges in the third act and afterwards, all the characters act like this was what the movie was about when it was clearly just a bunch of actors confined to a spaceship for sixty minutes.
Granted, the villain is awesome and becomes the most memorable aspect of an otherwise mediocre film which does try to work within the limits of its budget but cannot fully make the transition from an extended episode to a full-fledged cinematic feature.