3/4

3/4

2.5/4

3.5/4

3/4

1.5/4

2/4

1/4

2/4

1.5/4

3/4

3/4

3/4

2.5/4

2/4

2.5/4

2/4

1.5/4

1/4

2.5/4

3/4

3/4

3.5/4

2/4

1.5/4

Next 25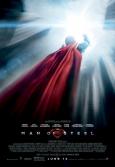 Man of Steel
I loved Man of Steel. There I said it.
3.5/4 stars
Wow, still don't believe me?

This is Zack Snyder's best film and one of the better comic book movie reboots to have been released thus far. Let's face it folks, the Superman franchise needed a good shot in the arm and who else but Snyder was good enough to do it? With Nolan as producer and Goyer as writer, I expected a decent film but nothing like I expected.
Holy shit. Henry Cavill nails it as Superman. I applaud him especially for not trying to channel Christopher Reeve as his unfortunate predecessor Brandon Routh tried to do in the earnest but boring Superman Returns. The cast is excellent all around too. Amy Adams is a much more energetic Lois Lane while Michael Shannon is just plain psycho as General Zod. Kudos to actors like Russell Crowe, Kevin Costner, and Diane Lane for giving us some dramatic heft to the proceedings. Laurence Fishburne does not appear as Perry White as much as I'd prefer but that's okay. He's great too.
Now let's get to the action. Mother of God, the action and effects are incredible. People play the saint and say it's too much but I'll be honest and say I wanted stuff like this to happen. Let Superman punch some bad guys for once. They spent a whole hour establishing his character and what responsibilities he'd have as a superhero. Let him fight.
Now that I'm done gushing over it, I'll get to the complaints. The shakey-cam is annoying as hell and pointless. Every character has at least one exposition speech which after seen 3 Batman movies written by David S. Goyer, I'm no longer surprised by but yea it's irritating. One thing which I know is a stupid complaint is that they used General Zod as the villain and not someone new like Brainiac. Sigh, will we ever see Brainiac?
In the end, I've waited seven years to see Superman in action and to have the basics of his comic book mythology updated to the 21st century and Man of Steel mostly did an excellent job at that.