0.5/4

4/4

3/4

3/4

2.5/4

4/4

4/4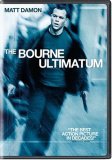 The Bourne Ultimatum
Bourne Ultimatum, an A+
4/4 stars
The Bourne Ultimatum - A+

Matt Damon returns for another spectacular film! The Bourne Ultimatum is probably the best action movie to date. As Jason Bourne continues his search for his past he faces ever more difficult situations. Those following him are more relentless than ever.

Beginning just when Supremacy left off, the film takes us immediately into the action as Bourne runs from Moscow police. As a newspaper writer uncovers the story of Jason Bourne both he and Bourne get caught up in the hunt as CIA officials try to keep the story under wraps. Bourne must find a way to avoid being seen by cameras and secret agents while trying to meet and protect the news writer. The hunt leads to Tangier as Bourne tries to track down the source behind the newspaper story. When things don't go quite as planned Bourne heads to New York, to finish it where it all started.

As Director of Photography, Oliver Wood simply blows the mind with what he manages to do with the camera. The camera is always in motion, even during a slow scene. Although some don't like that, personally i thought it was great. It puts the viewer right in the middle of the scene. This kind of shooting makes the action seem much more violent and in-your-face which is perfect for this film.

Coming back for a third time, Matt Damon puts on a superb performance. He gives all he's got, and you can tell, Matt Damon is Jason Bourne. Damon performs many of his own stunts making the film more than believable. With stunning choreography, the fights and chases make for a pure adrenaline rush.

Like it's two predecessors, Bourne Ultimatum is flawlessly edited. With fast action and rapid cuts, the film keeps the heart pounding and the mind racing.

I was glued to the screen when i first saw it, and every time after that as well. Bourne Ultimatum is an action packed piece of brilliance. A definite must-see for those who haven't seen it yet and for those who have.