2.5/4

2.5/4

3/4

2/4

2.5/4

2/4

1.5/4

2.5/4

1.5/4

2.5/4

3/4

3/4

1.5/4

2/4

2/4

2/4

2.5/4

1.5/4

3/4

1/4

2.5/4

3/4

2.5/4

2/4

2/4

Next 25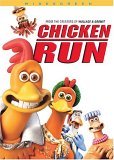 Chicken Run
Not just a "Chick" movie
3/4 stars
In the farming community of England there is a chicken farm which resembles, and is run like a POW camp by the "Tweedys" (voiced by Miranda Richardson and Tony Haygarth). "Mrs. Tweedy" (Richardson) pays close attention to the egg output, then picks the least productive hen for dinner.

The "Tweedys", especially "Mrs. Tweedy", have left the hens and roosters scared for their lives (literally), and a young hen named "Ginger" (voiced by Julia Sawalha) takes it upon herself to come up with a plan to get them out of there when a flying American rooster named "Rocky" (voiced by Mel Gibson) crashes into the chicken coup after falling from a rough flight. "Ginger" then gets the idea to have "Rocky", who apparently injured a wing in the crash landing, teach herself and the rest of the chickens how to fly so they can escape. As they are trying to learn to fly, "Mrs. Tweety" gets the idea to scrap the egg business to sell something even more menacing -- sell chicken pies.

This movie has some good comedic moments with jokes that are well spaced apart. Many of the characters are good comic relief as well.

The claymation isn't specific down the the smallest detail. However, the characters are very well constructed, and quite cartoonish looking. The animation of the characters are good enough to make you sometimes forget that your watching claymation. The performances help enhance the believability of the characters.

The story itself is good, and there aren't any bad lines as far as I could tell. Every actor made the lines appear very natural.

There are many memorable visuals in this movie. Many of which will be with you for some time after viewing this film. The camera angles, which had to be set up well to begin with, are well done making some memorable visuals.

Adults will catch lots of references used as jokes that children may miss. But adults and children should be able to understand the lessons of the story.

Good story, wonderful acting, good animation makes Chicken Run worth taking a look at.