2.5/4

2.5/4

3/4

2/4

2.5/4

2/4

1.5/4

2.5/4

1.5/4

2.5/4

3/4

3/4

1.5/4

2/4

2/4

2/4

2.5/4

1.5/4

3/4

1/4

2.5/4

3/4

2.5/4

2/4

2/4

Next 25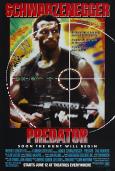 Predator (1987)
Good suspensful action/thriller
3/4 stars
"Dutch" (Arnold Schwarzenegger) leads a group of commandos into a dense Central American jungle to rescue hostages, which they learn have been slaughtered by their captors. They find the butchered remains of one of the ones sent in to rescue the hostages. They capture a female captor after destroying the encampment, and killing the majority of the captors and begin the journey back to where they are to meet with the helicopters that would pick them up to leave the area.

It is then when they discover something is hunting them, something not from this Earth.

First off, this movie is VERY bloody and graphic, and should not be viewed by young or impressionable children unless it is on broadcast television and edited for content and language.

On the plus side, this movie is full of action. It also leaves little to no room for the audience to take a breath.

One big problem, like most movies in this genre, is that the ones who don't survive have very little development. Some, more than others, got developed simply because they last longer in the film.

In the special effects department, I am not a fan of the camouflage of the "Predator" (Kevin Peter Hall, who appears out of costume at the end of the movie in a cameo), to me it looked really bad. It could have added to the suspense if they didn't make it so visible to the audience. I am also not a fan of the heat-seeking visual effects for the shots meant to be from the "Predator's" point of view.

The other visuals were pretty good. The jungle scenes were a bit cramped at times, which limited some camera angles, but gave you a sense of the characters feeling trapped.

If you like action in your movies, then check out "Predator". But, in my opinion, this is not a science-fiction movie despite having an extra-terrestrial as the murderous creature. So, if you're a sci-fi fan, this movie might not be what you're looking for.