2.5/4

2.5/4

3/4

2/4

2.5/4

2/4

1.5/4

2.5/4

1.5/4

2.5/4

3/4

3/4

1.5/4

2/4

2/4

2/4

2.5/4

1.5/4

3/4

1/4

2.5/4

3/4

2.5/4

2/4

2/4

Next 25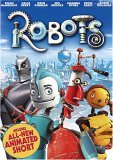 Robots (2005)
Has its moments, but notenough to save it
2/4 stars
"Robots" follows the "life" of an up-and-coming robotic being named "Rodney Copperbottom," (Ewan McGregor) who has aspirations of becoming an inventor who goes to the big city to follow his dreams. He meets up with a crazy robot (Robin Williams) who constantly needs repairs. Together, with help from a group of robots known as the "Rusties," they help "Big Weld" (Mel Brooks) whose business has been taken over by a robot who would rather make parts for profit than parts to help those in need (Greg Kinnear).

The first thing you notice is the incredible computer animation. The bright coloring is simply amazing, and the way the characters are designed are fun and quite unique. The actors are all good in their performances, and a few disguise their voices well enough for you to not realize who provides the voice.

The biggest problem is the script. To me, it seemed that they added the jokes after writing the story -- and didn't really care if the joke didn't make sense in the scene they put it in. The story was fairly weak, and didn't leave much room for character advancement.

The advancement of the characters didn't even give any room for the relationships between the characters. In my opinion, every aspect of character development, including development of characters relationships with one another, helps make a movie good.

Children may like the look of the movie, and will probably laugh at what I call pretty lame jokes. Adults, on the other hand, might not like this movie at all. So, if your a child, you could ask your parents to rent this -- but don't be surprised if this is not their first choice of a rental.