2.5/4

2.5/4

3/4

2/4

2.5/4

2/4

1.5/4

2.5/4

1.5/4

2.5/4

3/4

3/4

1.5/4

2/4

2/4

2/4

2.5/4

1.5/4

3/4

1/4

2.5/4

3/4

2.5/4

2/4

2/4

Next 25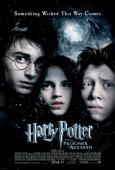 Harry Potter and the Prisoner of Azkaban
A pretty good movie
3/4 stars
I have never read the "Harry Potter" novels, so I was unaware of the story presented in this movie. With that said, "Harry Potter and the Prisoner of Azkaban" to me is a dark movie with comical elements thrown in.

The special effects are very well done, there are only a few that didn't have the feel of reality to me. You could pick out which are puppets, and which are CGI. In my opinion, the CGI could have been better in a few scenes.

The acting is probably the best part of the movie. All the actors appeared to be comfortable in their roles. Those who uttered the nonsensical "magic words" to cast spells made you believe that the words were able to conjure up a magical spell.

One problem that stuck out like a sore thumb to me is the over-the-top performances of the actors in the minor roles/cameos. Obviously these were meant to be comic relief, but they just didn't seem all that funny to me. I also didn't like the blond kid who bullied "Harry Potter" and his friends, he just didn't seem to be that much of a bully.

Another thing I noticed were some weird edits. Many of which were when the scenes were changing to continue the story. They weren't done well at all. Sound was also a bit of a problem. I had trouble hearing characters that were distant from the central characters in the scene.

Overall, "Harry Potter and the Prisoner of Azkaban" is a pretty good fantasy movie. I am a bit curious on how the story is depicted in the novel.