2.5/4

2.5/4

3/4

2/4

2.5/4

2/4

1.5/4

2.5/4

1.5/4

2.5/4

3/4

3/4

1.5/4

2/4

2/4

2/4

2.5/4

1.5/4

3/4

1/4

2.5/4

3/4

2.5/4

2/4

2/4

Next 25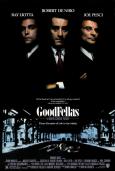 Goodfellas
A fairly good Mob movie
2.5/4 stars
Based on the book "Wiseguys" by Nicholas Pileggi, "GoodFellas" is a fair Mob movie about former Mob member Henry Hill (Ray Liotta).

Hill rises from a young man who does odd-jobs for members of his neighborhood Mob Family in the 1950s, to a man who becomes fed up with the life and turns State's witness to put away the Mobsters he admired as a boy.

For a Mob movie, the violence is not much. However, it is sufficient for what is presented. If you want blood in a Mob movie, I suggest the "Godfather" Trilogy.

The acting is pretty good, but nothing spectacular. Despite the great cast, none stand out and steal scenes -- however, Joe Pesci is pretty funny in a good number of scenes he's in.

The story itself is somewhat interesting. However, I was expecting a violent, crime-driven motion picture.

The directing was pretty good. But the director didn't set up any scenes where you were surprised when a gun was shot. I probably jumped once not expecting a shooting.

Overall, this is not the Mob movie you are expecting, if you are looking for one like the "Godfather" Trilogy. It's more about one man's journey in and out of organized crime.