2.5/4

2.5/4

3/4

2/4

2.5/4

2/4

1.5/4

2.5/4

1.5/4

2.5/4

3/4

3/4

1.5/4

2/4

2/4

2/4

2.5/4

1.5/4

3/4

1/4

2.5/4

3/4

2.5/4

2/4

2/4

Next 25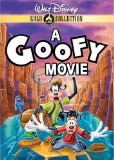 A Goofy Movie
A goofy time could be better
3/4 stars
This is not a typical Disney movie. It might never become a classic like so many others produced by Disney.

None of the songs in this movie will last for generations like "When You Wish Upon a Star," however they are fun to listen to. The best one is the one sung by "Powerline" titled "I2I" (the theme song for the movie).

"Goofy" was up to his classic bits he is known for, and much of him can be seen in his son "Max".

The visuals are excellent, but below Disney's typical standards. The animation is not as visually stunning as the animated movies Walt Disney himself watched over decades ago.

"A Goofy Movie" is good family entertainment for all ages. For children, they will love the comedy, and adults will come away from the movie understanding that this movie is more about the relationship between father and son.

If you are looking for a good movie I say this is a "must rent," but if you have children in the audience "A Goofy Movie" targets, then I say buy it and save it for a rainy day.