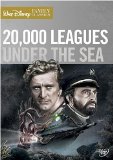 20,000 Leagues Under the Sea (1954)
a great, and one of the best movies
4/4 stars
a clean Disney movie. What I mean is that there is no bad language or words in the movie. Great movie, and actors. Walt Disney did the best job, between animated and live action. I love this movie I used to watch it when I was a litle girl and I used to get scared of the giant squid scene close to the end of the movie. I still get scared. I love the song a whale of a tale. James Mason does a great job as Captain Nemo, and Kirk Douglas does an great, and excellent job as Ned Land the harpooner. If you never or haven't seen 20,000 Leagues under the sea. Then I recommend you watch it. Yes it's an old Disney movie, but worth watching. It's got some funny scenes, action and some other stuff. Richard Fleicher did a great job directing it. It's also amazing and it always shows me something new every time I watch it.