2.5/4

0.5/4

2.5/4

2/4

2/4

1.5/4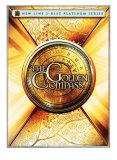 The Golden Compass
The Rusty Compass
2/4 stars
The CGI and effects save this movie, without a doubt. The plot is shaky and not very convincing to the point where you sometimes barely know what the hell is going on, combined with a child doing a very, very awful cockney accent; a small part, but, yes it was that bad that it needed to be addressed.

The film calls in the services of Daniel Craig, after his soaring roles as "James Bond" and he was advertised to be on the film, a film in which he appeared for very little and seemed to be a meaningless character, which brings me on to my next point.

If you are a die-hard Golden Compass book reader, then you would most probably like the film, but if not then you may find that this film won't make much sense to you.


As stated earlier, the CGI and effects are brilliant and are put to good use in the famous battle of the Polar Bears, which I don't think is far-fetched to say boosted the rating up to 2/4 stars for me.