3/4

3/4

1.5/4

3/4

3/4

2.5/4

2.5/4

3/4

3/4

3/4

2.5/4

1.5/4

3.5/4

1/4

3/4

2.5/4

1.5/4

2/4

2/4

1.5/4

3/4

1.5/4

3/4

3/4

1.5/4

Prev 25 | Next 25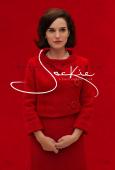 Jackie (2016)
Jackie - Review
3/4 stars
"There comes a time in man's search for meaning when he realises that there are no answers. And when you come to the horrible and unavoidable realization, you accept it or you kill yourself. Or you simply stop searching".

I'm lost not with words, but what I just watch. What a cold and haunting film that takes grief further like another best picture nominee we know. It's pretty scary and I can't explain why. The gloomy atmosphere and how psychological it can be, you could call it a horror film. Mica Levi amazing score that still plays in the back of my head after a few days, is one key factor of the horror-like atmosphere. Or it might be the cinematography which was just terrific and well stage for some truly unforgettable moments.

How the hell didn't Natalie Portman not win her second Oscar for this. Emma Stone was great, but better than this? HELL NO. It was captiviting watching her carry the emotional state of this tragic event. Especially the quite scenes and her mental breakdown.

Another performance that shouldn't be overlooked is John Hurt and Peter Sarsgaard. Both actors I've rescpted for years and some of the best scenes came from them. Sarsgaard carries an emotional state as well, but keeps it hidden and tries to be strong through a difficult time, although his heart is breaking too. The scenes between John Hurt and Natalie Portman was so engaging and it's a personal highlight for me. Great send off to a beloved actor.

I guess sometimes we need to stop searching for questions with no answers in our darkest time. Just wasting our little time.