2/4

3/4

3.5/4

1/4

3/4

2.5/4

1.5/4

3/4

3/4

1.5/4

3/4

3/4

2.5/4

2.5/4

3/4

3/4

3/4

2.5/4

1.5/4

3.5/4

1/4

3/4

2.5/4

1.5/4

2/4

Next 25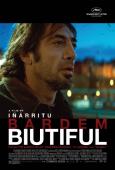 Biutiful
Biutiful - Movie Review
3.5/4 stars
"Look in my eyes. Look at my face. Remember me, please. Don't forget me, Ana. Don't forget me, my love, please."

I really don't get how everyone says this and Babel are Iñárritu worst movies. I don't get it. This movie was so beautiful in every sense of the word. Sad, but real.

Can I just say how brilliant of an actor Javier Bardem is. It's nothing new, but it begs repeating, and here it absolutely dose. Without spoiling anything, but the scene between him and his daughter was one of the most moving and human things I've ever seen. It was hard to watch for the right reasons. Facial expressions alone with barley any dialogue spoken, you as an audience member feel and understand him without seeing the whole picture.

Biutiful is another fantastic movie from my favorite living director Alejandro González Iñárritu. Having this spiritual atmosphere to it, which is a trademark in all of he's movies; the beginning and the end are example of such. The score from Gustavo Santaolalla was great and really added to the surreal experience I've had with this movie. The mixture of beautiful cinematography, score, and the performances, made this even more melancholic.