2/4

3/4

3.5/4

1/4

3/4

2.5/4

1.5/4

3/4

3/4

1.5/4

3/4

3/4

2.5/4

2.5/4

3/4

3/4

3/4

2.5/4

1.5/4

3.5/4

1/4

3/4

2.5/4

1.5/4

2/4

Next 25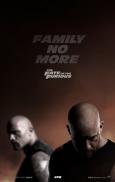 The Fate of the Furious
Fate of the Furious - Review
2.5/4 stars
"I'm gonna knock your teeth so far down your throat you'll have to shove a toothbrush up your ass to brush em'."

How do you review a movie like this without being too critical. Like yeah, it's loud, stupid, and nothing makes sense. But that's what you expect by now if you've been following the series. It's simple entertainment and the film dose it's job well of doing just that. For me, it was a blast to watch and it had me smiling.

I always enjoy the energy and the ridiculousness of these movies. Really pushing how far you can take this series. You've been with these characters for so long, the crew really do feel like family.

Can I just say that the scenes between Dwayne Johnson and Jason Statham are the highlight of the film. The back & forward insults are so silly, but amazing to watch. I heard that a possible spin-off is in the works just with those two. I actually want to see that.

But if I have to be critical, I will gladly do so. Because while I had fun with the movie, but I can't bring myself to call it a good film. The acting and the line delivery from everyone is really awful (expect for Dwayne, Statham, and Tyrese). Every time the movie gets serious, it's painful to watch. I don't mind where the series is going at this point, but I kinda feel like the last one (Furious 7) would've been the perfect ending. That's just me.

Overall rating: FAMILY!