2/4

3/4

3.5/4

1/4

3/4

2.5/4

1.5/4

3/4

3/4

1.5/4

3/4

3/4

2.5/4

2.5/4

3/4

3/4

3/4

2.5/4

1.5/4

3.5/4

1/4

3/4

2.5/4

1.5/4

2/4

Next 25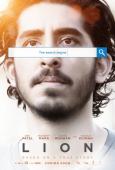 Lion
Lion - Movie Review
2.5/4 stars
Remember when I said "Manchester by the Sea" is a dramatic tearjerker, but the difference is that Manchester was a great movie and this one isn't.

I'm not saying "Lion" is a bad movie or anything, but best picture worthy? Heck no! I mean, the emotional elements are there that unfortunately didn't hit for me. It's a movie that's not going to stick with me after the end credits or a few years time.

And Rooney Mara was completely wasted in this movie, as she didn't do anything to the story and was only a plot device.

The only great things in can say about "Lion" is Dev Patel and Nicole Kidman outstanding performances. Especially Patel who I always thought was a great actor way before "Slumdog" came out. In "Lion", he shines and this is by far his strongest performance yet. Even Sunny Pawar who played the young Saroo was pretty damn good. I guess there are good child actors out there.

The cinematography was really good and the ending was pretty sweet. And that's it.

"Mary Magdalene" with Rooney Mara as Mary Magdalene and Joaquin Phoenix as Jesus should be interesting. Reason why I'm randomly bringing this up, because it's directed by Garth Davis who did this movie.