3/4

3.5/4

1/4

3/4

2.5/4

1.5/4

3/4

3/4

1.5/4

3/4

3/4

2.5/4

2.5/4

3/4

3/4

3/4

2.5/4

1.5/4

3.5/4

1/4

3/4

2.5/4

1.5/4

2/4

2/4

Next 25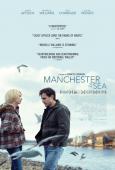 Manchester by the Sea
Manchester by the Sea - Movie Review
3/4 stars
"I said a lot of terrible things to you. My heart was broken, and I know yours is broken, too."

"Manchester by the Sea" is a trip through all the emotions and life's cruel tricks. Grief, lost, loneliness, acceptance, and finding humor in difficult situations. But what separates this from other dramatic tearjerkers is that while the movie is really depressing, but you feel more alive afterwards. It can bring out totally different emotions from you.

What Kenneth Lonergan manages to bring for a movie like this is the ability of presenting the characters as real people. A quiet and raw film that says so much. Incredible moving and brilliantly written. Hats off to you Lonergan.

Casey Affleck performance was so natural and grounded to the point I forgot I was watching actors on screen. Even through it's not an explosive performance, but you clearly see the boiling anger and sadness beneath the surface of his emotions that he boxes in. The only time when he dose shows how really feels, he dose it in the worst possible way. Bar fights, punching a window, and swearing at random people. You only see a little peak of his humility and how truly broken he is. If Casey Affleck doesn't win an Oscar for this, I'll be so mad.

Michelle Williams is barley in the movie, but every time shes on..wow it's freaking heartbreaking. The depth and the shakiness in her voice during her breakdowns was almost too much for me to handle. Williams herself has dealt with lost before and this most have been really difficult, but she took her broken heart and made it into art.

This is one of the most well acted and human movies of 2016. It will hit home for people who lost loved ones. If it hasn't happened to you yet, it will.

And those who say 2016 was a bad year for movies, should see more films.