2/4

3/4

3.5/4

1/4

3/4

2.5/4

1.5/4

3/4

3/4

1.5/4

3/4

3/4

2.5/4

2.5/4

3/4

3/4

3/4

2.5/4

1.5/4

3.5/4

1/4

3/4

2.5/4

1.5/4

2/4

Next 25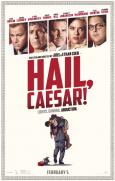 Hail, Caesar! (2016)

3/4 stars
Hail, Caesar isn't the great Coen brothers movie that I wanted, but it's a one that I can enjoy and admire in some away.

This movie is both a love letter and almost an accurate look at old fashion film making. There's plenty to like here. The cinematography is excellent, the cast is superb, the humor is rich and hilarious.

But the real stand out in "Hail, Caesar" was Alden Ehrenreich. This guy was brilliant and stole every scene he's in. I'm looking forward seeing him in the Han Solo spin-off. I got faith in him. I mean, he made a convincing idiot with charm that made spaghetti as a cowboy rope- this guy can do it.